ALSTOM-BOMBARDIER first RER NG EMU emerges. USB ports and seats lighting by BIOSPHERE FLUX in collaboration with COMPIN-FAINSA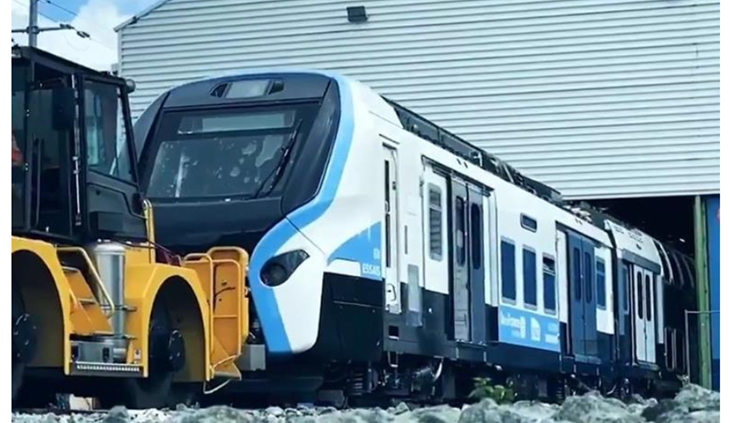 The first of 255 double-deck EMUs being built by Alstom and Bombardier for Paris RER lines D and E has been completed, and is expected to start testing shortly, Île-de-France Mobilités announced on October 18.
The regional transport authority has committed to a complete replacement of the fleets used on both routes, with the first trains expected to enter service in 2021. Five pre-series trainsets are due to be completed this year for the testing programme.
Designated X'trapolis Cityduplex by Alstom, the RER Nouvelle Génération EMUs will be delivered in two variants. On behalf of IDF Mobilités, SNCF placed a framework contract in January 2017 valued at €3·75bn, covering the supply of 125 six-car sets of 112 m for RER Line D and 130 seven-car units of 130 m for Line E. An initial firm order worth €1·55bn covered the first 71 trainsets to replace the current Z2N EMUs on Line D.
Biosphere Flux has designed and manufactured the first series for the under seats lighting "barrete":
The contract provides for the four motor vehicles in each EMU to be assmbled by Alstom and the intermediate cars by Bombardier. The trains are being manufactured at the companies' Petit-Fôret and Crespin plants in Valenciennes.
Together with COMPIN FAINSA, Biophere Flux has developed as well a 2 USB 3.0 ports with EN50155 and EN50121 certifications for the project, allowing a high speed charge in each seat.
Minimalist USB3.0 USB chargers for the amazing ALSTOM-BOMBARDIER RER NG project.
Back in 2017, this contract was announced as the 'deal of the century'. We are talking about the 3.75 billion euro contract for the delivery of 255 new trains for Paris RER lines D and E, the biggest contract ever awarded by Île-de-France Mobilités (IDF Mobilités – formerly known as STIF). The double deck units will be built by Alstom and Bombardier.
The two manufacturers have named the specially developed trains 'X'Trapolis Cityduplex'. IDF Mobilités refers to them as RER Nouvelle Génération (RERNG). In 2021 the first units should enter service.
The post images