BIOPSHERE FLUX READING LIGHT WITH UK SOCKET AND USB FOR CALEDONIAN SLEEPER MARK 5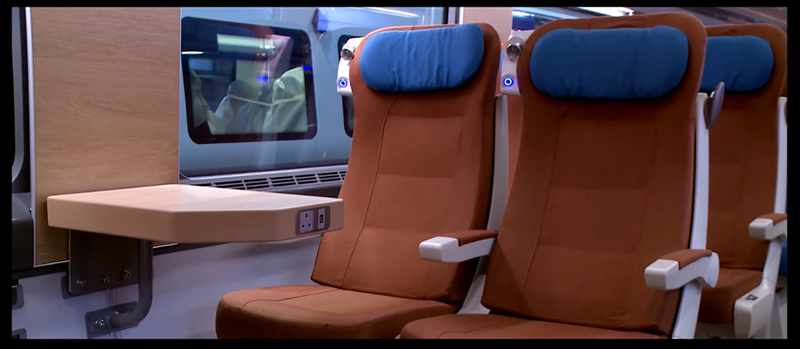 Caledonian Sleeper is the collective name for overnight sleeper train services between London and Scotland, in the United Kingdom. It is one of only two sleeper services on the railway in the United Kingdom, the other being the Night Riviera.
Two services depart London Euston each night from Sunday to Friday and travel via the West Coast Main Line to Scotland. The earlier departure divides at Edinburgh into portions for Aberdeen, Fort William and Inverness. The later departure serves Edinburgh and Glasgow splitting at Carstairs. Five London-bound portions depart from these destinations each night, combining into two trains at Edinburgh and Carstairs.
designed in collaboration with Fainsa for CAF, the reading light is an amazing design that includes en50155, en50121 usb, BS1363 UK sockets 100% designed and tested by Biosphere flux and stunning counter light, designed to avoid any shinning on the other passengers. The light request was one of the goals in this project.
CAF is the supplier of the new Caledonian Sleeper franchise passenger coaches operating between London and Scotland. There are 5 types of cars arranged in up to 16-car trains.
Specifically, the new fleet features First and Second Class Cars, Lounge Car and Sleeper Cars. First Class Cars are provided with aircraft type seats for high passenger comfort. In addition, these new cars feature passenger accessibility enhancements.
With luxury double rooms, en suite showers and a breakfast service which includes smoothie bowls and eggs royale, the relaunch of the renowned Caledonian Sleeper just over 100 days ago seemed to have elevated the train service to the highest standards of luxury and convenience.
The post images