Stadler Rail Valencia and Biosphere Flux S.L. jointly design the lighting for the new TRAM line 9 in Alicante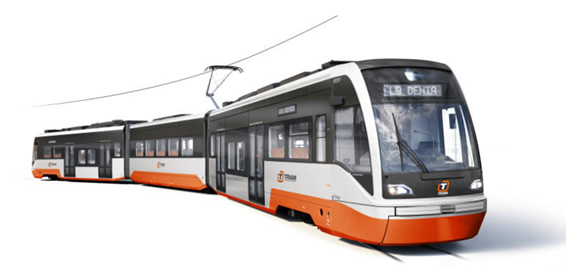 Bimodal trains, capable of operating as a train and as a tram, with electric power or fuel depending on the section, and adapted to the standards applied by Ferrocarrils de la Generalitat (FGV) in the current 4100 series convoys. These are the new Tram-trains that the multinational company Stadler is going to start manufacturing at its plant in Albuixech, in Valencia, to run from 2019 on Line 9 of the Alicante Tram, which connects Benidorm with Denia.
The challenge was to design luminaires that were flexible in their installation, that provided high illuminance and reduced maintenance costs.
All this taking into account all railway regulations and the use of high quality materials approved for the passenger transport sector.
In the preliminary design, numerous lighting studies were carried out to ensure that the luminaires could be seen without glare and that they offered a high level of comfort. Especially the "door lights" installed on the door frames, which are distinguished by the fact that they provide visual information to the passengers.
A system of colours and flashes of light warns that the door is opening (green colour), closing (red colour)... or, in the event of traffic, it acts like the other lights.
All sizes have been taken into account and studies of different passenger heights and UGR levels have been carried out. "Stadler has taken special care in both the exterior and interior design of the vehicle, adapting it to the needs of the client and the environment in which it will circulate. Other important aspects of the design are safety and a high level of comfort for both passengers and driver".
The holders of the luminaires, MAIN LIGHT and DOOR LIGHT, mean that they can be moved along the vertical and horizontal axes and thus be perfectly flush with the ceiling. They are discreetly fixed to the ceiling of the TRAM Alicante, and with their rounded shapes they give a very modern look to the interior space of the cars.
In the driver's cab we have decided to use the GOTA spot. It is a spot that incorporates our patented focusable technology, and that allows the adaptation of the light beam, getting to illuminate exactly the pilot's control panels. Together with its rotatability, it is a spot that offers us a high versatility.
The GOTA spot complies with the European railway standards EN50155, EN50121 and EN45545.
It incorporates a vandal-proof fastening and its robust design and heat dissipation area give it a life cycle of more than 40,000 hours.